Rustic River Hardwood
Comfortable, timeless, and ever-so-breathtaking, Rustic River hardwood has options suitable for all spaces and all styles. This Carpet One Floor & Home exclusive brand caters to homes and families of all sizes and our onsite flooring experts are always eager to match you up with the perfect planks, giving your space polish and panache, while letting your unique personality shine through.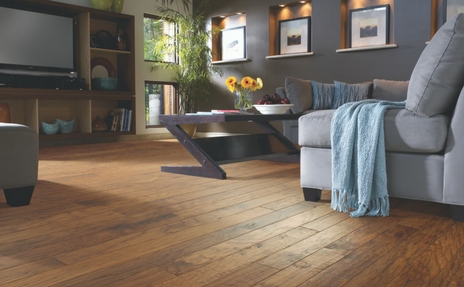 What's your favorite way to floor? We can help you customize your space by bringing your vision to reality, thanks to incredible variations in scrape, color, and texture. This handcrafted distinction allows you to experience it all- from heavy distressing to more subtle wire-brushing. A one-of-a-kind rating system allows you to compare each product's distinctive features, guiding you towards the products you're searching for. In addition to turning your space into your personal work of art, our unbeatable Gold and Platinum hardwood warranties guarantee that your upcoming hardwood decision will prove a rather simple one.
At Modern Carpet One Floor & Home, we carry a full line of gorgeous, durable Rustic River hardwood selections. Our onsite hardwood experts can assist you throughout the process: from shopping for products, to measuring your allotted space, to arranging for a smooth installation with minimum disruption to your daily routine. Unsure which Rustic River product is right for you? We can help you discover the perfect shade, based on your swatches and specifications.
To learn more, visit our Rustic River hardwood displays in our Annapolis, Temple Hills, or Lanham, MD showrooms, or give us a call today to schedule your FREE onsite project estimate.